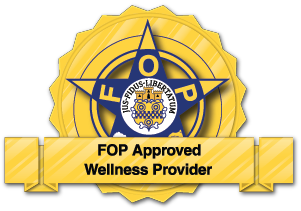 The National Fraternal Order of Police recognizes the need for qualified and competent services focused on the treatment of law enforcement officers and their families. The lifestyle and work of a police officer is unique and so are their needs. The Officer Wellness Committee has developed the Approved Provider Bulletin (APB), a nationwide directory of culturally competent wellness resources, all vetted by the NFOP. From individual clinicians to inpatient treatment programs to wellness products and training geared toward law enforcement, the APB provides a resource where officers and their families can locate and learn about available wellness services.
Practitioners, programs and products listed in the Approved Provider Bulletin have been deemed by the National FOP Officer Wellness Committee to be culturally competent in working with members of law enforcement and have demonstrated sensitivity and expertise in understanding the unique culture of law enforcement. Each has earned the designation of FOP Vetted & Approved Wellness Provider. Providers and programs are being added on an ongoing basis as we continue to vet resources to expand this network.
The Division of Wellness Services follows a set of standardized guidelines while vetting wellness providers and programs for potential inclusion in the Approved Provider Bulletin. The FOP Wellness Provider Vetting Guide was created with guidance from police psychologists, combined with the knowledge and experience of the members of the National Officer Wellness Committee. It is designed to be utilized by lodges, police agencies, and members seeking wellness providers, and should serve as a tool for pinpointing quality wellness programs and services.
If additional information or assistance is needed, contact the NFOP Division of Wellness Services at officerwellness@fop.net or at (615) 878-2620.
---
This project was supported, in whole or in part, by grant number 2019-CKWX-0009 awarded to the Fraternal Order of Police by the U.S. Department of Justice, Office of Community Oriented Policing Services. The opinions contained herein are those of the author(s) or contributor(s) and do not necessarily represent the official position or policies of the U.S. Department of Justice. References to specific individuals, agencies, companies, products, or services should not be considered an endorsement by the author(s), the contributor(s), or the U.S. Department of Justice. Rather, the references are illustrations to supplement discussion of the issues. The internet references cited in this publication were valid as of the date of publication. Given that URLs and websites are in constant flux, neither the author(s), the contributor(s), nor the COPS Office can vouch for their current validity. This resource was developed under a federal award and may be subject to copyright. The U.S. Department of Justice reserves a royalty-free, nonexclusive, and irrevocable license to reproduce, publish, or otherwise use and to authorize others to use this resource for Federal Government purposes. This resource may be freely distributed and used for noncommercial and educational purposes only.