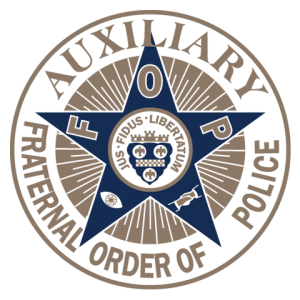 The Fraternal Order of Police Auxiliary is an ancillary organization of law enforcement officers. The Auxiliary is the only national support organization of its kind.
The Fraternal Order of Police Auxiliary was organized to unite families of members of the Fraternal Order of Police; to promote their welfare socially, morally and intellectually; and to encourage them in all things pertaining to their good.
In 1920, a group of wives of Pittsburgh, Pennsylvania, police officers gathered to discuss issues concerning their husbands and their jobs. This was the birth of the first "FOP Ladies Auxiliary." In 1941, Kathryn M. Milton became the first national president of the Ladies Auxiliary. Since that time the Auxiliary has grown to over 1,900 members in 100 subordinate Auxiliaries representing 28 states.
In 1985, membership eligibility that originally allowed only females as members was extended to family members (18 years of age or older) of any member of the Fraternal Order of Police. In 1987, the name of the organization was changed, dropping the word "Ladies" to reflect the growth in membership of the organization.
In August 2021, the Grand Lodge Auxiliary convened for its 40th Biennial Conference in Indianapolis, Indiana.
Structure
Grand Lodge Executive Board
The Grand Lodge Auxiliary represents all subordinate and State Auxiliaries. Members of the Executive Board of the Grand Lodge are elected biennially from delegates sent by subordinate and State Auxiliaries to a National Conference, held simultaneously with the National Fraternal Order of Police organization. The main objective of the Grand Lodge Executive Board is to govern, unify and establish policies for all auxiliaries nationwide.
State Auxiliaries
Membership of the State Auxiliaries is composed of all members of subordinate auxiliaries within that particular state. The Executive Board of the State Auxiliary is composed of elected delegates representing subordinate auxiliaries attending a State Conference of the FOP Auxiliary organization. The objective of the State Auxiliary is to coordinate statewide activities and to provide a liaison between subordinate auxiliaries and the National Auxiliary. State Auxiliaries are also afforded additional voting power at the National Conference in the form of a representative (National Trustees) on the National Board. There are presently 18 State Auxiliaries functional across the nation.
Subordinate Auxiliaries
Although, on an organizational chart, subordinate auxiliaries are the lowest on the echelon of the Order, they are the most important in the structure of the Auxiliary. A subordinate auxiliary is formed with permission from the parent FOP lodge and the minimum of 10 eligible persons. This grassroots organization administers to day-to-day problems of the members of the Fraternal Order of Police and their families. The profile of a subordinate auxiliary varies with the needs of each particular police family, law enforcement agenda, FOP lodge, and community. Auxiliaries represent diverse interests and makeup of members.