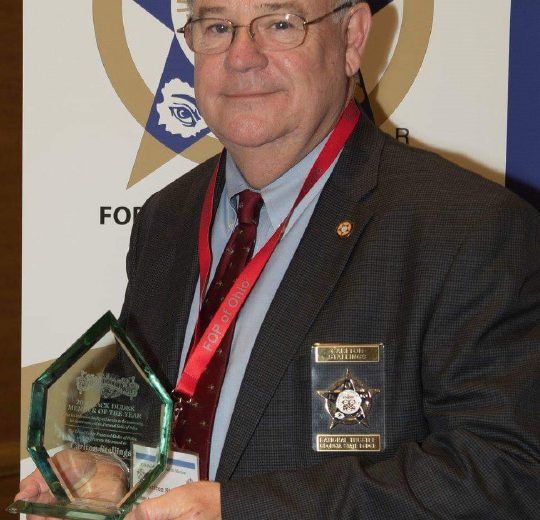 Carlton Stallings began his law enforcement career with the Georgia State Patrol in 1970. He had an exceptional career as a Trooper, spanning more than three decades. He started as a radio operator and retired as a Captain, which speaks volumes to his training, ability and leadership qualities. Carlton has received numerous awards and commendations including four Officer of the Year awards, three Governor's Challenge awards in technology, and the Georgia Commendation Medal, Department of Defense, Military Division for his work at the 1996 Olympics. His work has left a legacy that will remain for many years.
Carlton's tenure with the Fraternal Order of Police has been equally as exceptional as his time as a Trooper. In 1995 he organized and chartered his own lodge, Lookout Mountain Lodge #86. He was elected Lodge President and served in that position for 12 years. In 1999 he was appointed to fill the remaining term of State Sergeant-at-Arms, beginning his legacy with the Georgia State FOP. In 2002 he was elected State Vice President and in 2004 was elected State Lodge President, serving six terms. As State President he chartered 14 new lodges across the state, led the startup of the state FOP Foundation and led the effort to restart the FOP Law Enforcement Day on the Hill at the Georgia Capitol in Atlanta. In 2016 he was elected as Georgia's National Trustee, a position he still holds today. His dedication to the FOP is displayed every day and his work to build the Order in Georgia is tireless. He never misses an opportunity to talk to a law enforcement officer about joining the FOP.
Carlton Stallings has done so much in both his law enforcement career and as a member of the FOP. With all that he has achieved, the marks he has made in both fields, and the legacy he has left and continues to create, the FOP is proud to present him with the award of 2018 Member of the Year. Congratulations!
The information on this page was accurate and current at the time the Member of the Year Award was bestowed upon this member.