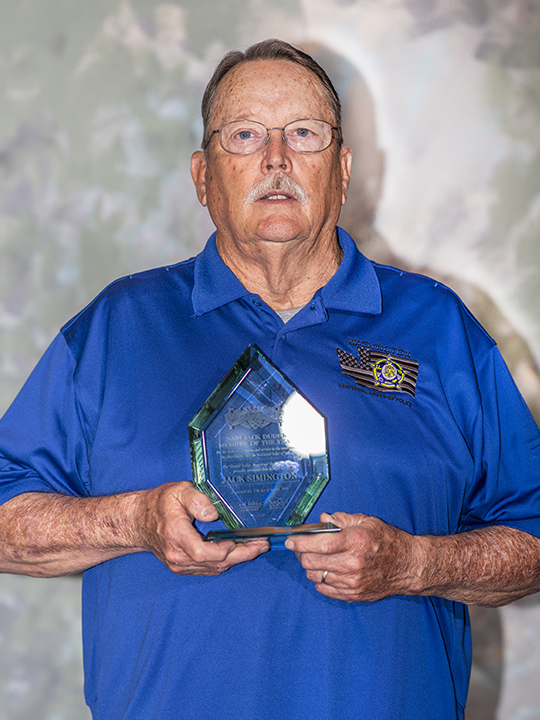 Jack Simington, National Trustee from Washington State, was awarded the Jack Dudek Member of the Year Award on the first day of the 59th Biennial National Conference, on August 17, 2009.
Referred to as the "Father of the FOP" in Washington, Simington was a charter member and the first State President of the Washington State Lodge in 1996. He served as State President for four terms before stepping down to take on the position of National Trustee. Current WA State President Ken Roske says that "No doubt, Jack was the driving force behind the creation and success of our state lodge."
Simington currently also serves as the local lodge President for the largest local lodge in Washington State.
In addition to a stellar law enforcement career with the Kennewick, WA Police Department, Simington has worked tirelessly to not only promote the FOP in Washington, but has helped launch charitable foundations that aid fallen law enforcement officers and their families. The Washington Memorial Foundation and FOP Honor Guard were created during his tenure as State President and he has personally made sure that law enforcement officers and/or their families have been taken care of when there has been an injury or death.
Simington has been at the forefront of labor and legislative issues in Washington State and was instrumental in helping create the legislation that led to the Washington state Law Enforcement Officers Retirement System and serves as its co-chair.
Roske says that "Jack's vision is broad and he is always thinking of how best to serve the members."
"Jack has never waivered in his dedication and belief of the FOP and although you may not always agree with Jack, at the end of the day you can bet that his interest is what is best for our members, this great Order and our profession."
The information on this page was accurate and current at the time the Member of the Year Award was bestowed upon this member.