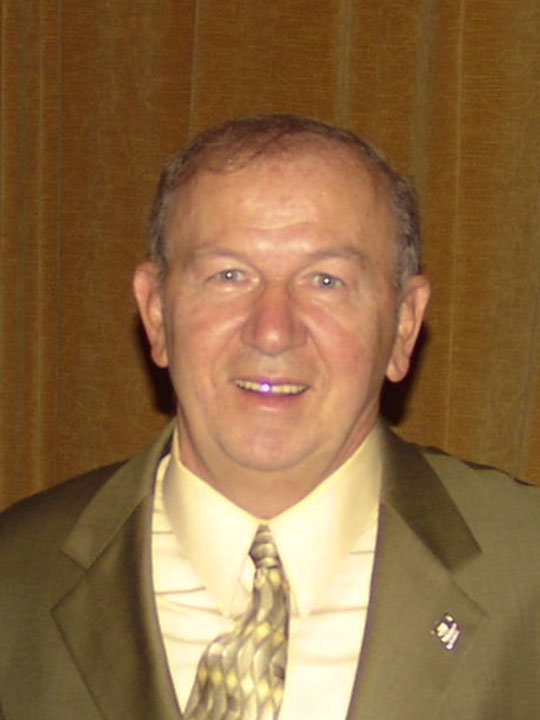 This year we had four candidates who have served the citizens of their community at the local, state, and federal levels. These candidates have done it all and it was the responsibility of the Award and Recognition Committee to choose the winner. Their selection for 2004 Member of the Year was Michael G. Lutz, member of Lodge # 5, Philadelphia, PA.
Michael has spent a total of thirty-three (33) years in the Law Enforcement profession. Twenty-five (25) of those years were spent as a Philadelphia Police Officer where Michael rose to the rank of Captain. He served in both the Patrol and the Detective Divisions. During Michael's career as a Law Enforcement Officer he was a recipient of 30 Departmental Commendations for outstanding arrests, including Bravery, Merit, and Unit Citations. As a measure of appreciation, Michael has also received numerous other awards from various organizations within the community, local, and state government and the Fraternal Order of Police. He received those awards for his dedication and service toward reducing crime, fighting drugs, and improving the quality of life in the communities.
During Michael's career as a Philadelphia Police Officer, he served in the elite Stakeout Unit at which time he volunteered as a Decoy Officer. While there he adopted disguises as a vendor, Insurance Salesman, cab driver, elderly male, and an elderly female among others. As such, Michael subjected himself to the crime of robbery by shotgun, handgun, knife, and various other weapons on nearly 100 occasions. One of the highlights of Michael's law enforcement career was when he served as Assistant Regional Director of the PA State Attorney General's Bureau of Narcotics, Philadelphia Office. During his tenure he was part of a team of dedicated Narcotics Officers and task force members. They made their mark in the Delaware Valley by making 4,232 narcotic arrests. They confiscated 929 pounds of cocaine, 8,289 pounds of marijuana, 42 pounds of methamphetamine, 74 pounds of crack, 32.5 pounds of heroin, 16.5 pounds of hashish, and 16 gallons of P2P. They also busted seven methamphetamine labs for a total street value of nearly 70 million dollars. In addition, they seized 200 vehicles, 400 guns, 5 million dollars in cash, and many millions more in assets. During this period, while serving as Assistant Regional Director, Michael volunteered his time assisting hundreds of town watches and anti-drug groups. He also helped a host of other organizations, schools, churches, and law enforcement agencies in an effort to save their children and their neighborhoods from the scourge of drugs that plague our society.
In the course of Michael's thirty-three-year law enforcement career, he took leaves of absence from the Philadelphia Police Department to serve as Recording Secretary and Vice President of the Fraternal Order of Police Philadelphia Lodge #5 from 1982 through 1988. While Michael served as Interim President of the Philadelphia FOP Lodge #5 in 1993-1994, he helped restore integrity, credibility, and stability to a financially ravaged FOP. In the 1994 PA FOP State Elections, Francis Bascelli, the State President, asked Michael to seek the position of State Vice President. He was successful and served four years in that position. In 1998 he was first elected to serve as President of the PA State FOP Lodge which represents 40,000 members. He was unopposed in subsequent elections and served six years in that position. In the elections of 2004, Michael did not seek re-election. He decided to spend more time with his family.
During Michael's tenure as State President, there was a period of growth and achievement as many new initiatives were introduced such as:
The establishment of a State FOP office in Harrisburg, PA.
Group medical and prescription benefits for retirees at a reduced rate.
A semi-annual awards ceremony that recognizes outstanding police work.
Establishment of an expanded Legal Plan and Labor Committee.
In the area of Legislation, the Lutz Team enjoyed unprecedented success. Some of the legislative accomplishments include:
Obtaining a free college education for children of Police Officers killed in the line of duty throughout the State.
Hepatitis C declared an occupational disease of Law Enforcement Personnel who are primarily at risk.
Establishing minimum mandatory death and disability benefits for Police Offices throughout the State.
Monetary service increments for Police Officers in 3rd class cities.
A cost of living adjustment for retirees which was part of a pension benefit package for Police that is valued at $150 million.
Michael Lutz is a graduate of Saint Joseph's University, evening division. He has been married to Annette for 36 years. He has two daughters, Michelle and Jeannine, and seven grandchildren.
The information on this page was accurate and current at the time the Member of the Year Award was bestowed upon this member.