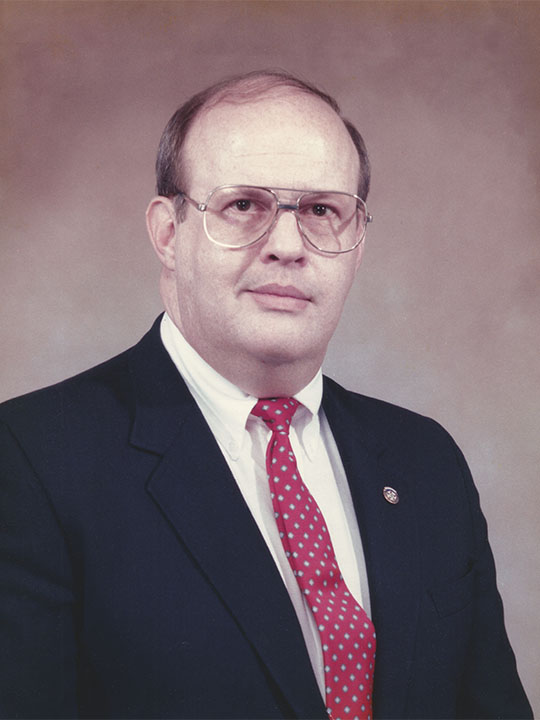 Ray Franklin became an active member of the law enforcement profession and the FOP over thirty years ago. After twenty-two years of service to the city of Louisville, Kentucky, Ray retired in 1995. He was elected President of Lodge 6 in Louisville, KY in 1987 and has been a strong voice and leader of the FOP ever since. Ray served as Kentucky State Lodge Secretary from 1993 until 1999 and was elected to the Executive Board as Sergeant-at-Arms in 1995. He served as Sergeant-at-Arms until 2001, when he was elected to the position of Second Vice President.
On December 4, 2002, Second Vice President Ray Franklin was involved in an automobile accident in his home state of Kentucky. The accident occurred during one of the worst snow storms of the season. Ray incurred serious injuries, but was on his way to recovery when he succumbed to a blood clot on December 12, 2002. This unexpected tragedy left his family and the FOP grief stricken. Approximately 200 FOP representatives from across the country attended the services for Brother Franklin. Ray leaves behind his mother, his wife, Edie, his twin daughters, Angela and Andrea, and his brother, Charles.
In the tradition of excellence and commitment that Ray based his career and beliefs upon and due to the generosity of Dr. Barry Stoler and his Associates at Suburban Hospital, a scholarship fund has been established in Ray's honor.
Brother Franklin was a tireless and devoted member of the Fraternal Order of Police and his passing is a tremendous loss to both local and national members. Ray was a friend and a mentor, we will miss him terribly.
Ray was a passionate supporter of the Fraternal Order of Police and the fight for members' rights and benefits. You will be greatly missed, brother. As you precede us, I know that the Kingdom of Heaven has a new guardian to watch over us as we ride our beats. Sleep well, my friend.
The information on this page was accurate and current at the time the Member of the Year Award was bestowed upon this member.