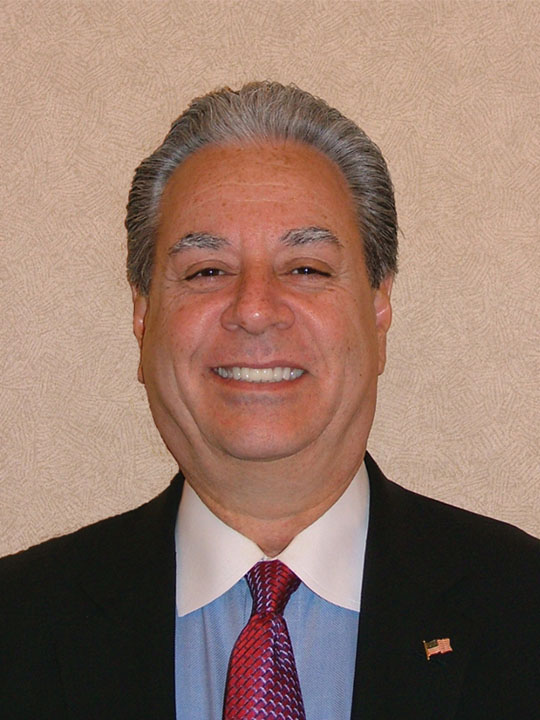 During the Fall National Board of Trustees Meeting in September 2002, Frank Ferreyra was awarded the prestigious honor of being named the Jack Dudek Member of the Year. Frank Ferreyra is truly deserving of this outstanding award. Proudly nominated by New York State Lodge Past President William Lombard and current New York State Lodge Vice President Pasquale Cirincione, Mr. Ferreyra currently serves as the New York State Lodge President. His career in law enforcement began in 1974 with the New York City Police Department. He has earned more than 50 citations, including the Combat Cross, which is the second highest award in the department. Frank attained the rank of Detective Lieutenant prior to his retirement in 1991.
Frank Ferreyra had a very active police career being assigned to Precinct Anti-Crime Units, the Manhattan South Detective Bureau, the Brooklyn North Narcotics Unit, and the Manhattan South Task Force. By 1990, he was promoted to Lieutenant and assigned as Commanding Officer of Zone #1 in the Brooklyn North Narcotics Unit. Frank retired in 1991 after a serious line of duty injury. Frank was also involved in the NYCPD Honor Legion, where he served as Secretary for 10 years, and the NY State Shields, where he served as Executive Director for 12 years. Both of these organizations are dedicated to assisting the families of officers killed in the line of duty.With regard to the Fraternal Order of Police, Frank served as Financial Secretary and later President and Trustee of New York Lodge 100. In 1998, he was elected Secretary of the New York State Lodge and then President in 2000, where he currently serves.
Frank is obviously no stranger to service to his country, the citizens of New York City and to members of the law enforcement community and their families. He is definitely one of the few who has exemplified the goals and aspirations of this profession and this organization. The hardest test for Frank Ferreyra came on that fateful September day in 2001. Through the horror and turmoil, somehow Frank remained composed and quickly realized that the families of lost officers would be in need of support, both spiritually and financially. Within the first few hours of this tragic event, Frank suspended all regular fund raising and communicated with the lodge legal advisors, accountants and members of the Executive Board. He personally made arrangements with health organizations to provide counseling for officers and families of the lost officers at no cost to them. Within two days of the attack, a special web site and the NYS FOP WTC Law Enforcement Relief Fund account were operational. More than six million dollars have been contributed and deposited in the NYS FOP WTC Fund. Of that amount, 4.75 million dollars have been given to the families of killed, lost and injured law enforcement personnel. Unforeseen needs continue to surface and, therefore, dispersal of these funds is ongoing.
Frank worked no less than 16 hours a day, seven days a week for almost three months after the attack. His efforts and those of the New York State Lodge have been recognized by President George W. Bush, President Steve Young, New York Governor George Pataki, New York City Mayor Michael Bloomberg, Police Commissioner Raymond Kelly, former Mayor Rudolf Giuliani and the previous Police Commissioner Bernard Kerik, to name just a few. How fitting now that our organization awards Frank Ferreyra with its most prestigious honor. Congratulations, Frank, on your outstanding achievements and dedication, not only to this organization or your profession, but to the citizens of your community and this nation.
The information on this page was accurate and current at the time the Member of the Year Award was bestowed upon this member.