---
Recording the Police: Video Doesn't Always Tell the Truth About Police Actions with Lance LoRusso

Episode #57 | 28 June 2023
---
Body-warm cameras, cellphones, surveillance video—the actions of our law enforcement officers are recorded by multiple cameras every day. Yet, so many times when a video surfaces, the public outcry stems from the fact that the video just looks bad.
There's no dispute that violent encounters, especially when an officer is being attacked and defending themselves, may not look good on video. So how can we have so many encounters captured in the past 10 years on video and the public still remain so uninformed? The reason is because the public has been conditioned over 50 years with a false impression of what the use-of-force looks like in real life. Television and movies have portrayed everything from physical takedowns to the use of deadly force as something sterile with predictable endings for officers.
On this episode of the Blue View Podcast, National President Patrick Yoes sits down with Lance LoRusso. A former law enforcement officer turned attorney, Lance has been a use of force instructor for nearly 30 years and has represented over 100 officers following officer-involved shootings and in-custody deaths.
---
---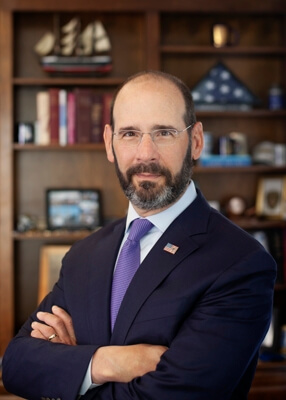 About Lance LoRusso
Lance LoRusso is a civil litigator with a law enforcement background. He focuses his practice on critical incident & media response, catastrophic personal injury, tractor trailer wrecks, and wrongful death cases. Lance is honored to serve as General Counsel to the Georgia State Lodge of the Fraternal Order of Police.
Lance has represented over 100 officers on-duty shootings or in-custody deaths and has lectured on deadly force and other topics to law enforcement officers from more than twenty-five states, several federal agencies, and international police associations.
He has been a firearms instructor for over 25 years, serves as a use of force expert, and regularly consults with attorneys defending law enforcement officers in use of force and criminal cases brought against them in the performance of their duties.
Lance holds an undergraduate degree from Emory University and a Master's degree from Kennesaw State University. He graduated with honors from Georgia State University College of Law. He is licensed to practice in Georgia, Tennessee, & Arkansas.
Lance's books, When Cops Kill about use of force incidents and Blue News covering police and media response, were written to raise money for law enforcement charities. To date, over $30,000 has been donated to assist officers, their families and their survivors. He has also written several fiction books inspired by his experiences as a cop and his work with first responders.
---
Law enforcement officers have one of the toughest and most dangerous jobs in the United States. The brave men and women of law enforcement are charged with the enormous responsibility of keeping our streets and neighborhoods safe.
Be sure to tune in to Blue View, a weekly podcast presented by the National Fraternal Order of Police, to hear from law enforcement experts, elected officials, and other notable leaders to gain insight into the issues and current events surrounding the law enforcement community. Each episode will leave you with a better understanding of what law enforcement officers face daily. Together, we can rebuild the trust between police officers and the communities they serve.