---
Police Week 2023: The Surviving Families of Our Fallen Officers with COPS Executive Director Dianne Bernhard

Episode #50 | 2 May 2023
---
A single memorial service hosted by the National Fraternal Order of Police 41 years ago has turned in to a extraordinary event, attended by thousands, in honor of our nation's heroes.
All across America, families of fallen peace officers will head to our nation's Capital to honor the life of America's finest who gave their life in the service of others. On 15 May, we'll gather on the West Front of the Capitol to honor our fallen Brothers and Sisters who made the ultimate sacrifice in service to their community. The sacrifice of these fallen officers and their families will never be forgotten.
In part two of a four part series focused on Police Week, National FOP President Patrick Yoes sits down with Dianne Bernhard, Executive Director of Concerns of Police Survivors (COPS), to discuss the preparations for Police Week 2023 and the massive undertaking of COPS to bring the surviving families to Washington, D.C. for a life-changing experience.
---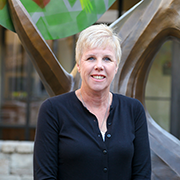 About Dianne Bernhard
Dianne Bernhard serves as the Executive Director of Concerns of Police Survivors (COPS). In her role, Dianne is responsible for fulfilling the mission, providing leadership, overseeing the functions of the organization, strategizing for future growth, and operating C.O.P.S. under the direction of the National Board.
---
Law enforcement officers have one of the toughest and most dangerous jobs in the United States. The brave men and women of law enforcement are charged with the enormous responsibility of keeping our streets and neighborhoods safe.
Be sure to tune in to Blue View, a weekly podcast presented by the National Fraternal Order of Police, to hear from law enforcement experts, elected officials, and other notable leaders to gain insight into the issues and current events surrounding the law enforcement community. Each episode will leave you with a better understanding of what law enforcement officers face daily. Together, we can rebuild the trust between police officers and the communities they serve.