---
Police Week 2023: We'll Never Let Them Walk Alone with Glenda Lehmann

Episode #49 | 27 April 2023
---
We can measure time, but we cannot measure loss. On 15 May, we'll gather on the West Front of the Capitol to honor our fallen Brothers and Sisters who made the ultimate sacrifice in service to their community. The sacrifice of these fallen officers and their families will never be forgotten.
In part one of a four part series focused on Police Week, National FOP President Patrick Yoes sits down with Glenda Lehmann, President of the National FOP Auxiliary Board, to discuss the preparations for Police Week 2023 and the National FOP's Annual Peace Officers' Memorial Service, which will be held on May 15 at the U.S. Capitol. Glenda is one of the many volunteers who make this solemn event possible.
---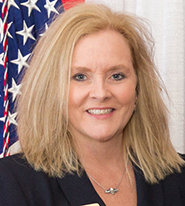 About Glenda Lehmann
Glenda Lehmann is the President of the Kentucky State FOP Auxiliary and currently serves as the President of the National FOP Auxiliary, an ancillary organization of law enforcement officers. The Auxiliary is the only national support organization of its kind. The FOP Auxiliary was organized to unite families of members of the Fraternal Order of Police; to promote their welfare socially, morally and intellectually; and to encourage them in all things pertaining to their good. A proud member of the FOP Auxiliary since 1993, Glenda was the recipient of the Annual M. Michele Letz Mational Member of the Year 2015 Award. She has held multiple positions on state and national boards and has garnered a reputation for always willing to be out in front, not only in the way she leads meetings, fund raisers and Memorial Services, but also publicly for the rest of us in the Auxiliary.
---
Law enforcement officers have one of the toughest and most dangerous jobs in the United States. The brave men and women of law enforcement are charged with the enormous responsibility of keeping our streets and neighborhoods safe.
Be sure to tune in to Blue View, a weekly podcast presented by the National Fraternal Order of Police, to hear from law enforcement experts, elected officials, and other notable leaders to gain insight into the issues and current events surrounding the law enforcement community. Each episode will leave you with a better understanding of what law enforcement officers face daily. Together, we can rebuild the trust between police officers and the communities they serve.