The Data: Tracking Police Officers Shot in the Line of Duty with Tim Richardson and Mark McDonald
Episode #27 | 17 August 2022
---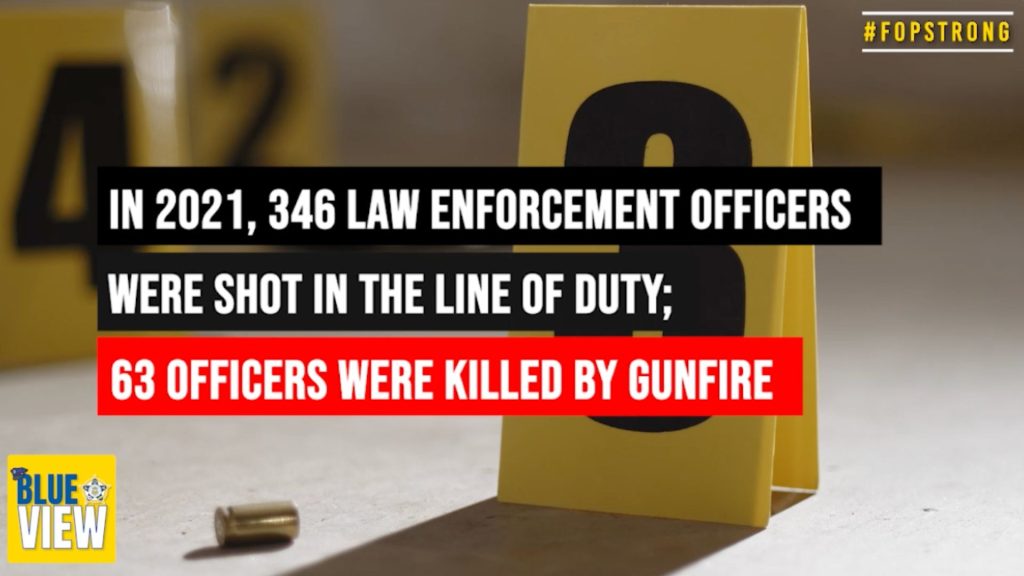 ---
Last year was one of the most dangerous years for law enforcement in recent history due to the increase of violence directed towards law enforcement officers. In 2021, 346 officers were shot in the line of duty, 63 of whom were killed by gunfire. This included 133 officers who were shot in 107 ambush-style attacks—an increase of 115% from 2020. Thirty-two of those officers ambushed were killed.
Despite all of this, coupled with the nationwide crime crisis fueled by rogue prosecutors and the COVID-19 pandemic, the brave men and women of law enforcement continued to hold the line. They worked tirelessly to protect the communities they serve; they stood between good and evil.
On this episode of the Blue View, National FOP President Patrick Yoes sits down with Tim Richardson, Senior Legislative Liaison, and Mark McDonald, Legislative Liaison, from the National FOP's Government and Media Affairs Center to discuss the recently published 2021 Year-End Summary Law Enforcement Officers Shot in the Line of Duty and dive in to how this data is collected and the trends we are seeing across the country.
---

---


Timothy M. Richardson
Timothy M. Richardson is the Senior Legislative Liaison with the Government and Media Affairs Center in Washington, D.C. He is a native of Burlington, NJ, and comes from a law enforcement family. His grandfather, Mike Gallagher, co-founded the Burlington Township Police Department and later served as its Chief of Police. His father, who retired from the same Department with the rank of Lieutenant, was the charter President of the Burlington Township FOP Lodge #84.
Tim is a graduate of Elizabethtown College in Lancaster County, PA. He was hired as a Legislative Assistant by the FOP in June 1996 and was promoted to Senior Legislative Liaison in September 2001. Tim, an ardent Philadelphia Phillies fan, lives in Stafford, Virginia with his wife and two children.
Mark McDonald
Mark McDonald serves as the Legislative Liaison with the Government and Media Affairs Center on Capitol Hill in Washington, D.C. Prior to joining the Fraternal Order of Police, Mark served as Regional Director for a Pennsylvania Gubernatorial campaign. In his role, he played a major role with the development, implementation, and execution of the campaign's strategy.
Originally from Bucks County, Pennsylvania, Mark grew up working in a small, family-owned business in Philadelphia that outfits public safety officers and other first responders. Upon graduating from Goucher College in 2016, where he studied Political Science and played lacrosse, Mark got his start working on Capitol Hill for former Congressman Mike Fitzpatrick (R-PA).
---