There's a New Sheriff in Town
Featuring Congressman John Rutherford
Episode #9 | 12 April 2022 | Watch | Listen | Subscribe
---

---
On this episode of the Blue View, National FOP President Patrick Yoes sits down with Congressman John Rutherford (FL-04) to discuss his law enforcement background, how Congress is tackling some of the most pressing issues facing the law enforcement community, and the rise in violent crime.
---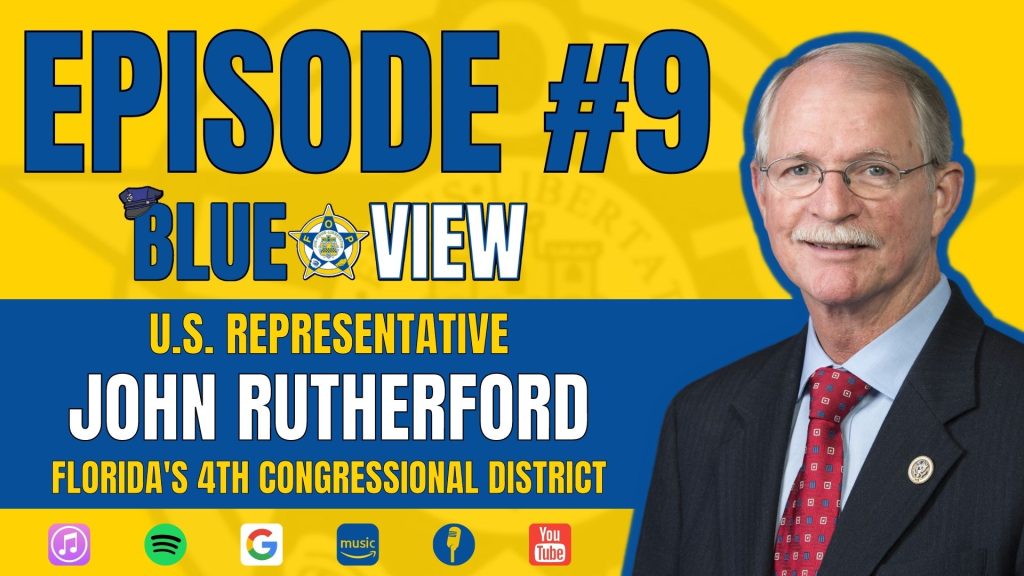 Congressman John Rutherford has lived in Jacksonville, Florida since 1958, and attended Florida Junior College and Florida State University, where he studied Criminology. He is a graduate of the FBI National Academy, 171st Session and the National Executive Institute. He began his career in law enforcement in 1974 as a patrolman in the Jacksonville Sheriff's Office (JSO), working his way up through the JSO where he eventually served as Director.
In 2003, 2007, and 2011, John was elected Sheriff of Duval County. For three terms and twelve years, John ran a 3,200 employee office, and due to his effective leadership, homicide and overall violent crime in Jacksonville dropped to a 40-year low. Using a model of intelligence-led and community-based policing, John and his team of law enforcement professionals dramatically improved neighborhoods and prevented crime throughout the community. He also made the mental health component of the criminal justice system a priority, reducing the recidivism rates of the mentally ill and facilitating their treatment. John also served as Chair of the Legislative Committee for the Florida Sheriff's Association, where he advocated before the legislature for policies that strengthened constitutional rights, supported our law enforcement, and enhanced public safety across the State.
---
---
Law enforcement officers have one of the toughest and most dangerous jobs in the United States. The brave men and women of law enforcement are charged with the enormous responsibility of keeping our streets and neighborhoods safe.
Be sure to tune in to Blue View, a weekly podcast presented by the National Fraternal Order of Police, to hear from law enforcement experts, elected officials, and other notable leaders to gain insight into the issues and current events surrounding the law enforcement community. Each episode will leave you with a better understanding of what law enforcement officers face daily. Together, we can rebuild the trust between police officers and the communities they serve.
---