National FOP's Annual Day on the Hill is Now

VIRTUAL

!
7-9 February 2022
Once again, the public health situation in Washington, D.C. has resulted in our decision to pivot to a virtual Day on the Hill. Our nation's capital is at the epicenter of the current omicron surge and, to combat its continued spread, the District of Columbia has imposed strict protocols which include having to prove that you are fully vaccinated to access indoor food and drink establishments. In addition, the recent surge in cases has resulted in very restricted access to Members' offices in and around the U.S. Capitol Complex. The reason for our Day on the Hill event is the opportunity to interact with Members of Congress and their staff, but Congressional staff is working from home in the majority of these offices, and accessibility to Members of Congress has also been made very difficult.
We have concluded it is very unlikely to have a successful in-person event and, for these reasons, we will host our 2022 Day on the Hill virtually, just as we did last year.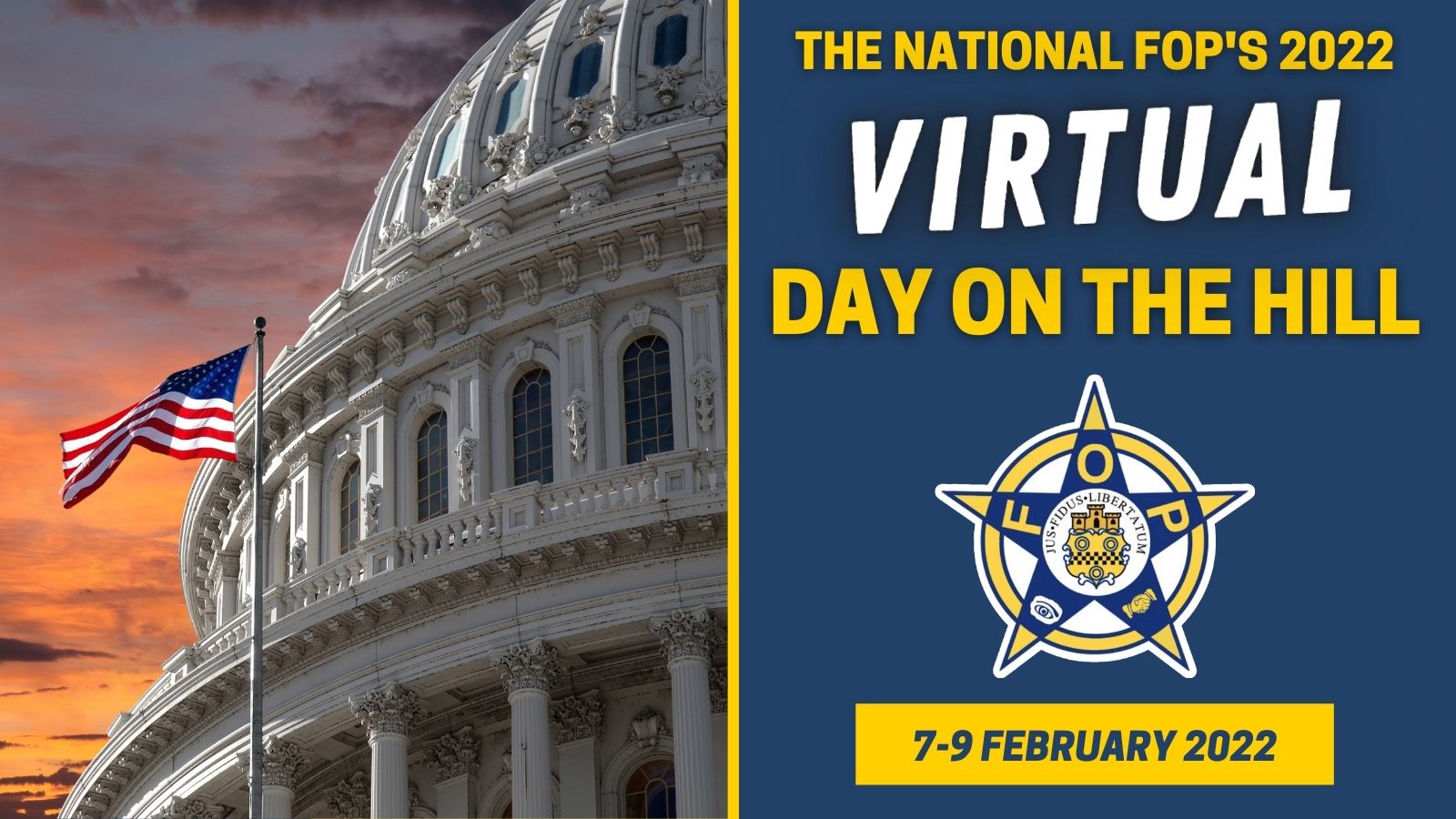 Our event will begin on Monday, 7 February, with an online briefing on our legislative agenda hosted by staff in the National FOP's Government and Media Affairs Center (GMAC) and members of the National Legislative Committee. The GMAC staff will make our Day on the Hill legislative and supporting materials available on the website soon. The online briefing will last approximately one hour and the details about how to register and log on to the event will be shared as soon as they are available.
We encourage all of our members and Day on the Hill participants to set up virtual meetings with your Members and their staff from your home States and districts—conference calls, Zoom calls or other virtual interactions for the rest of that week, with a focus on Tuesday and Wednesday, 8-9 February. Even though these meetings will be virtual, it is important to make these appointments in advance! Every effort should be made to have your Representative or Senators participate in the meeting—making these connections is important, especially in an election year.
Your participation is critical, especially since it cannot be a face-to-face event. Without the need for or expense of travel, we hope to have more members participate. Challenge your members to participate in the online briefing and make virtual appointments with their lawmakers on Capitol Hill. The more officers that lawmakers hear from, the greater the effectiveness we will have as an organization. Talk about Day on the Hill in your lodge meetings and help us help you by increasing our participation.
If you have any questions, please contact the National FOP's Government and Media Affairs Center at (202) 547-8189.
2022 Virtual Day on the Hill Resources
View and Download Individual Documents: