The National FOP's Annual Day on the Hill
6-8 February 2023 | Washington, D.C.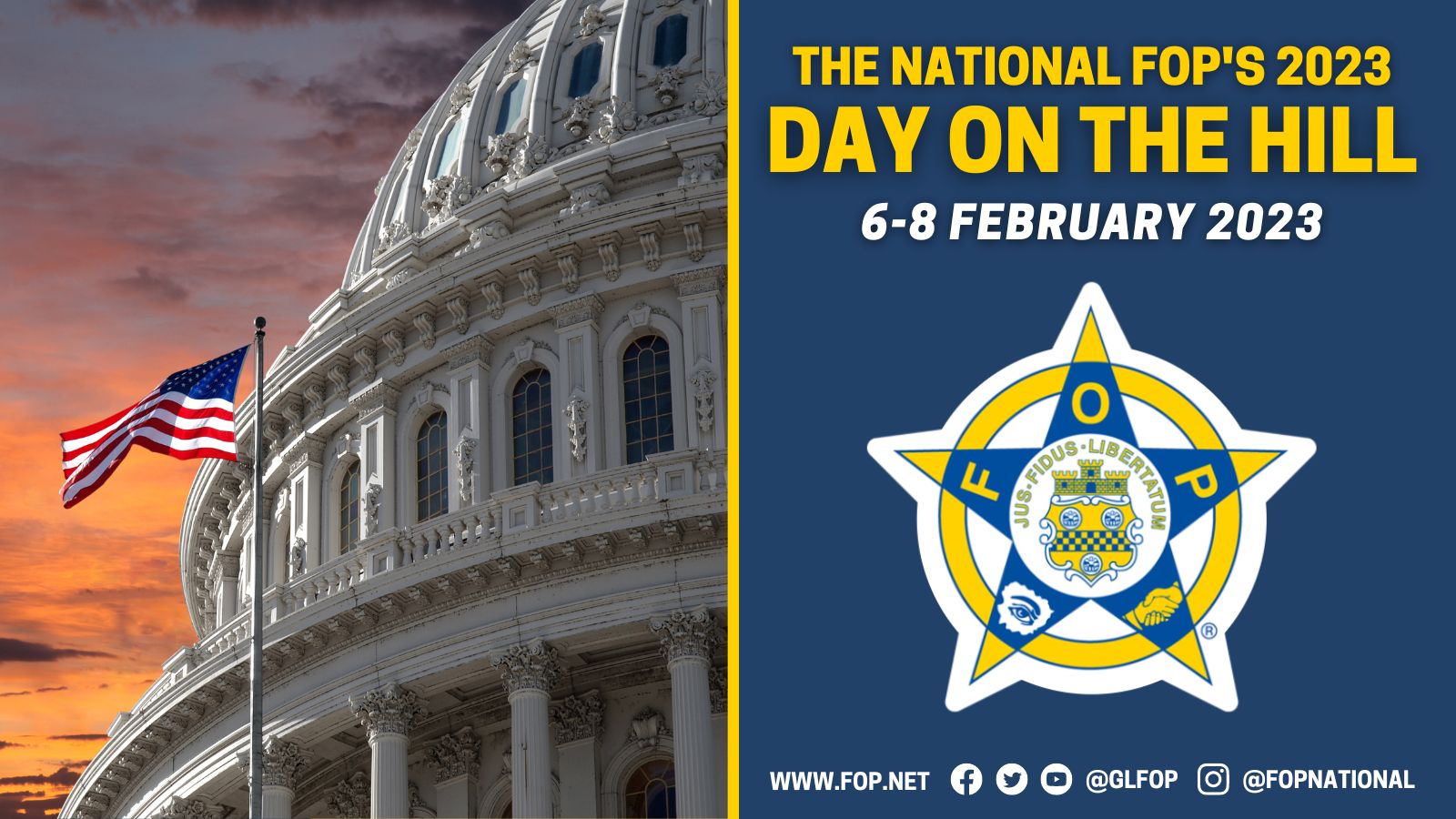 ---
The FOP's annual Day on the Hill is a unique opportunity to have face-to-face interactions with the Members of Congress that represent YOU in the nation's capital. We need make sure that our priorities—the "Social Security Fairness Act," the "Protect and Serve Act," and support for local and State law enforcement fighting the national epidemic of violent crime—become their priorities as well. Our future success are based on our ability to motivate and mobilize our grassroots to make sure our message gets through. Participation in this event is just a part—but an important part—of the FOP's advocacy strategy. We need our members to build, strengthen, and sustain their relationships with their Senators and Representatives. Members of Congress need to know that FOP are active voters who will hold them accountable for their actions.
If you have any questions, please contact the National FOP's Government and Media Affairs Center at (202) 547-8189.
---

---
SCHEDULE OF EVENTS
MONDAY, 6 FEBRUARY
3:00PM | Our event will begin on Monday, 6 February, at 3pm with a briefing on our legislative agenda at DC Lodge #1, hosted by staff in the National FOP's Government and Media Affairs Center (GMAC) and members of the National Legislative Committee. The GMAC staff will make our Day on the Hill legislative and supporting materials available on the website soon. The briefing will last approximately one hour.
Address: DC FOP Lodge One 711 4th Street, NW, Washington, DC 20001
FEDERAL OFFICERS | On Monday, 6 February, at 11am, the Federal Officers' Coalition will be holding a meeting at DC Lodge #1. The meeting, which is open to all active and retired Federal officers, will go over the most pressing issues that effect Federal officers. If you want more information, contact Chad Jones at SDFOP12@gmail.com.
TUESDAY & WEDNESDAY, 7-8 FEBRUARY
The other two days will be devoted to your meetings with Members of Congress.
---
RESOURCES
2023 Day on the Hill Legislative Briefing Materials
FOP One Pager